The recording of Prophecy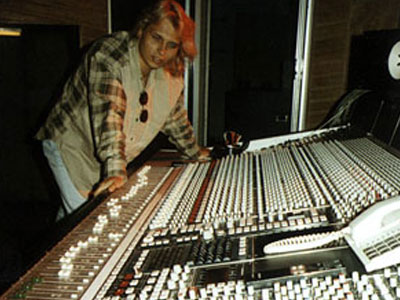 Photo by Jason Freeman: Metropolis Studios, early morning.
Special Thanks to:
David (Spielberk) Beranek. (Never did one do so much for so little. A true friend.) Rostislav (I had to get rid of the studio couch) Simek. Jason (The man who has everything and carries it all with him) Freeman. Katerina, Gejza, Libor, Kazimir, Yvonna and everyone at Cable Plus - Many thanks for a job well done. Louise (Congrats on getting your life back together) Gainey. Eliska (The best monk of them all) Pokorna. Katerina (you have the spirit, now find the means) Rychnovska. Carl (you never listen to anything I say) Lundgren. James (One man against the world, or is it the world against one man) Van Engelen. Ronnie (Don't tell my wife I'm here) Peers. Mat Thomas, Emma (The soulful stranger) Calaghan. Steve (Why don't jingle Writters like me) Romig. Jarka (The only consolation of having your hart broken, is the inspiration that follows) Kwikak. Jirka (Doesn't it stunt your growth?) Janda. Jonathan (Why can't I play like you?) Wade. The Realm Crew. Steve (You started it all) Chavez. Adam (Can't believe you got married) Calaitzis. And to all others who have helped along the way.
Thank you - Ren.